Together, we've helped send 2,321 6th grade students this school year to Outdoor Lab. With all of the challenges, changes and unexpected shut downs, we think this is impressive and we want to thank you for sticking with us.
What's more? 17 new interns began their Outdoor Lab journeys at the end of January and will teach throughout this semester. The program continues thanks to people like YOU, who value both community and the importance of introducing our local students to the mountain wilderness.
High School Leader Scholarships Are OPEN!
The Outdoor Lab Foundation awards students who have served as high school leaders or interns at Outdoor Lab the opportunity to apply for scholarships to further their education. We're delighted to grow this program in 2021 by offering a third scholarship.
The program began in 2018 as a way to recognize high school leaders for their outstanding commitment to the program. The scholarship application asks students to describe how Outdoor Lab has impacted their lives and how their experience as a leader will play into their future plans. And new this year, we're asking students what they learned from events of the past year.
To apply, students should have served as a high school leader or intern in recent years for the Outdoor Lab program. They should also be applying for admission to any private or public vocational training program, college or university to begin within the next 12 months.
Know a student who should apply? Click here, or send them the link below.
New Interns Begin at Outdoor Lab, Masks and All!
Just like that, another round of interns begin their Outdoor Lab journeys.
Intern training week was the last week of January for this round of Outdoor Lab interns. Our interns experience a powerful, professional development opportunity. They develop their skills in the fields of outdoor and environmental education, stewardship and youth development. They fill an important role at the sites by supporting teachers, directing high school leaders and ensuring every student has opportunities for hands-on, experiential learning at Outdoor Lab. These young leaders work as part of a team to help students learn about ecology, geology, hydrology, astronomy, navigation, archery and more. Interns are the backbone of the program, guiding students in stewardship of themselves, their community and the environment.
Stay tuned to see the amazing things these interns will do this semester or visit our Facebook to stay updated.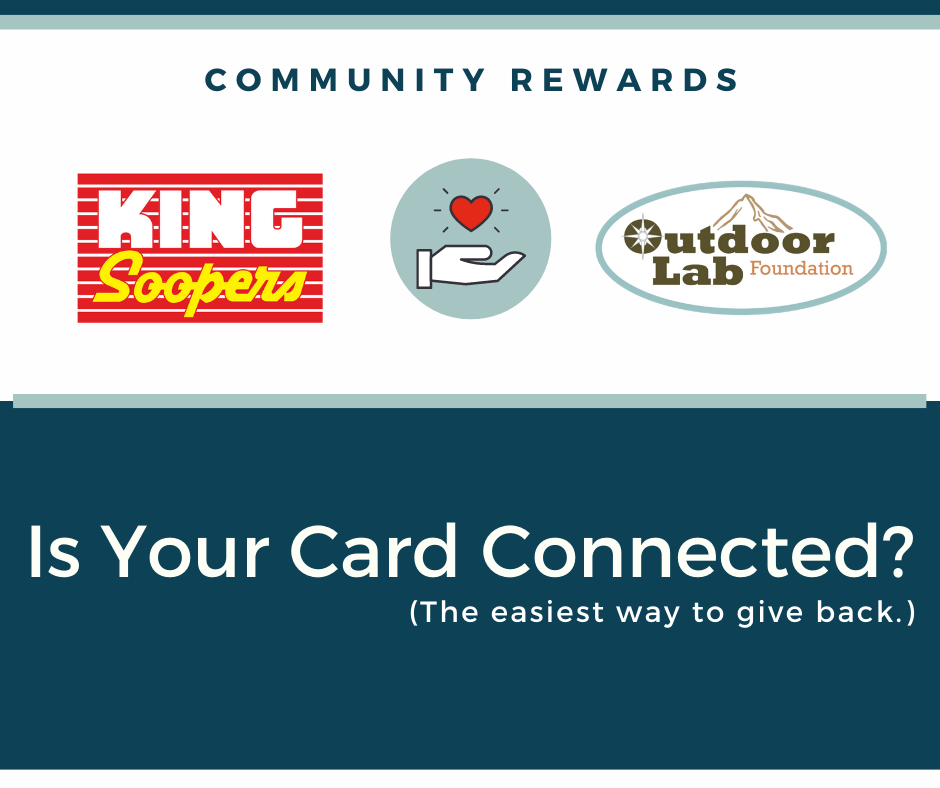 The Lab Cards Programs Continue...
The King Soopers Community Rewards - or Lab Cards Program - is a big part of how we are able to carry out our mission. You've likely heard of this program. King Soopers customers can connect their phone numbers or accounts to an organization of their choice. By connecting a card to the Outdoor Lab Foundation, you will guarantee a portion of your purchases support student experiences at Outdoor Lab.
If you haven't already done so, we'd like you to connect your card to the Outdoor Lab Foundation. The more families and participants we have connected, the bigger impact we can make together. To date, the King Soopers Community Rewards Program has generated over $3 million for Outdoor Lab Foundation in Jeffco.
To learn more and to connect your card, click here or the button, below.
Evergreen Orthodontics Supports Outdoor Education
Evergreen Orthodontic Specialists takes pride in giving their mountain community a reason to smile. They provide comprehensive orthodontic support to Evergreen and surrounding areas- but they also support causes like the Outdoor Lab Foundation because they believe in the overall enrichment of children in the community.
They believe:
Improving the wellbeing and self-esteem of their patients and community directly affects the wellbeing and satisfaction of their team members and community
What they do:
Provide an unconditional commitment to their patient families with quality orthodontics in a pleasant environment. They also support the community with only the best intentions for the health of their patients.
"My daughter is really enjoying treatment at EOS and the whole staff makes her feel welcome and cared for. Thanks EOS!" -Trevor from Evergreen
If you've been searching for the right orthodontist- look no further! Contact them by clicking here, or at the link below.
Our Contact Information
*{{Organization Name}}*
*{{Organization Address}}*
*{{Organization Phone}}*
*{{Organization Website}}*
*{{Unsubscribe}}*