Introduction to Outdoor Lab
A week-long residential camp experience can be one of the most transformational forms of experiential education a young person can receive and foster profound personal growth in students. Beyond the lessons in outdoor skills, natural history, communication, teamwork, and leadership that are part of virtually any outdoor experience, at Outdoor Lab, there is an underlying process through which the experience is rendered meaningful in the lives of the participants.
Outdoor Lab has been enriching the lives of sixth-grade and high school students in Jefferson County for more than 60 years. With more than 5,000 students served each year and over 400,000 alumni, Outdoor Lab is the longest continually running outdoor education program in the western United States. 
Outdoor Lab carefully integrates several proven youth development models, including experiential education, socio-emotional and life-skills learning, outdoor recreation, and mentorship. Our curriculum and program format work in tandem to help students realize their leadership potential and uncover personal, interpersonal, and social skills. Outdoor Lab provides opportunities for students to practice effective communication, teamwork, and goal setting in a challenging and awe-inspiring wilderness classroom.
Our Program Model
We are unique because we invest in "People, Partnerships, and Places." Our first and most important differentiator is that our students are supported, led, and mentored by caring teachers, program instructors, Interns, and young adults. This model ensures that our participants receive the maximum support needed to achieve educational goals and gain the most they can throughout the experience.
The second key component of our work is that each outing is designed in partnership with neighborhood schools and derives input from the teachers that work with the students day-to-day. This collaboration allows us to maximize ongoing youth impact. These authentic collaborations help us plan the best lab possible, prepare students for the experience, and ensure the effective transference of the lessons and breakthroughs at camp to life back home.
Finally, we pride ourselves on the inspirational places we conduct our labs. Both the Mount Blue Sky and Windy Peak campuses are historical and emotive wilderness properties. The remote setting and inspirational surroundings are key factors in our ability to effect positive change in our students.
Core Classes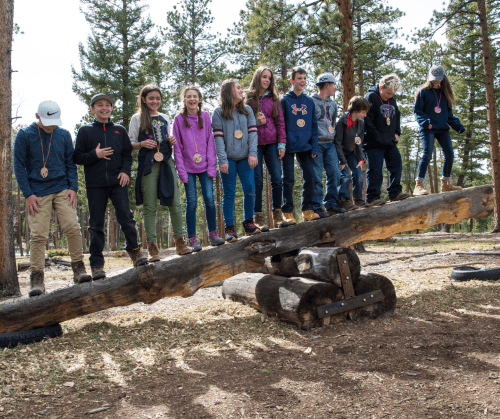 Initiatives
This class takes place on our low ropes challenge course. The goal is for students to apply teamwork and strong leadership to challenges set by Outdoor Lab Staff. We start the week off with this class to build our teams and set the tone for the week with a deep dive into our core value system of ICARE. ICARE stands for Integrity, Commitment, Awareness, Respect, and Empathy.
---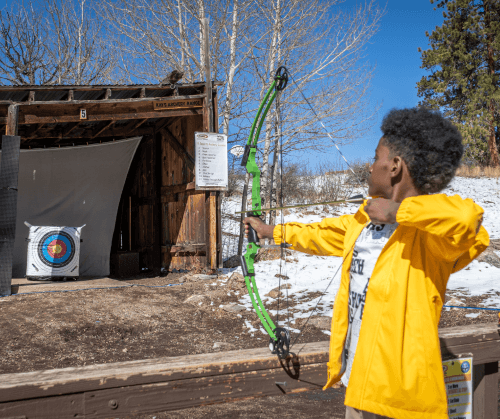 Archery
This class is designed to let students investigate and demonstrate the appropriate use of archery equipment and is aligned with the National Archery in Schools Program (NASP). Through archery, students will be introduced to potential energy, kinetic energy, and friction through experimentation. 
---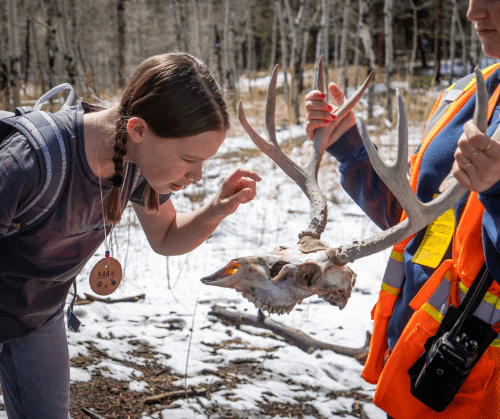 Ecosystems
Students take a hike to investigate the Montane Ecosystem present at both Outdoor Lab sites. Students will use resources to identify living (biotic) organisms such as Ponderosa Pines and elk. Students will learn about transfer of energy, as well as other ways abiotic and biotic interactions make the Montane Ecosystem unique. This hike ranges from 1.5 - 2.0 miles long.
---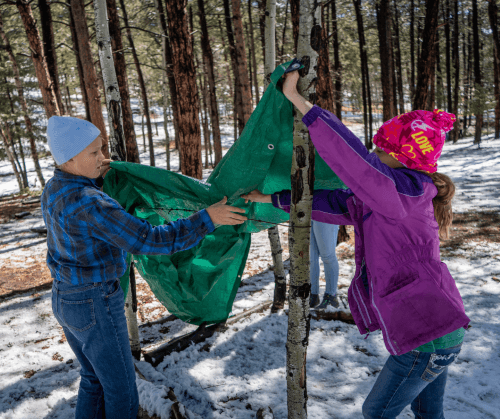 Leave No Trace
This hike introduces students to the seven principles of Leave No Trace. Students will then be given a scenario where they will have to apply the principles and figure out what essential items to bring on a long hike and will be asked to problem-solve when things go wrong. Sixth-graders will then be asked how the principles of Leave No Trace align with the Outdoor Lab mission of stewardship.
---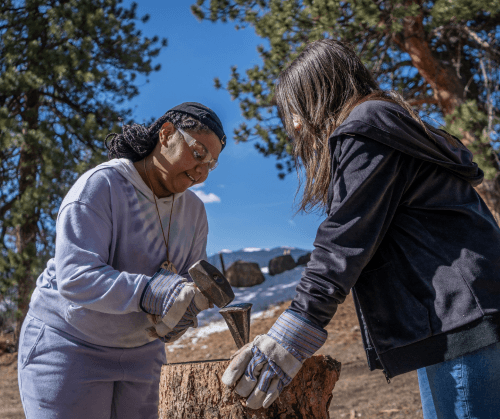 Site History
Site History explores the unique history of the Outdoor Lab sites. Each historic era is paired with an activity for students to truly empathize and feel what life was like for the people who lived during that time period. In the end, students will be able to identify examples of stewardship in the people who lived on this land before us.
---
Astronomy
 
During Astronomy Night, students explore wavelengths of light and how they can be used to understand the characteristics of stars. We will use iPads to help orient us to the night sky and do some stargazing, too. We will also investigate the relative size and distance objects in our solar system using the Planet Walk. Sixth-graders will also explore objects in our solar system and objects beyond our solar system using the telescopes in the observatories at both sites.